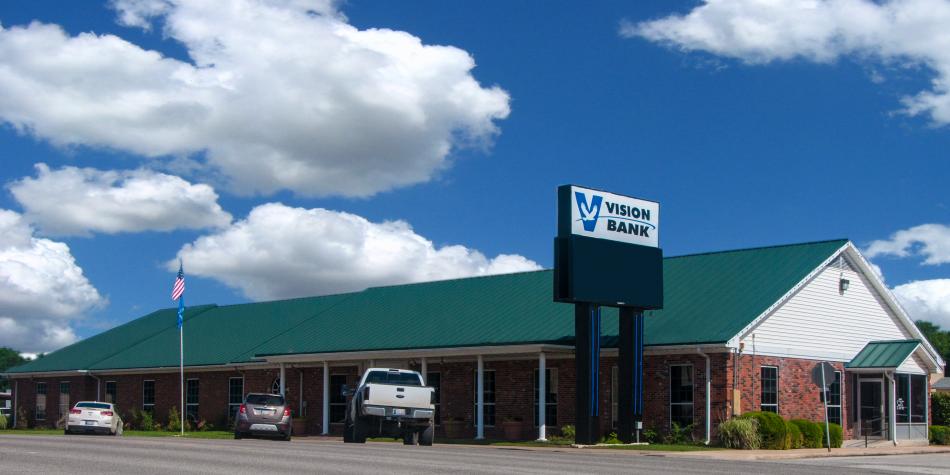 Bank Location
Vision Bank, Sulphur
1100 West Broadway Avenue
Sulphur, OK 73086
PO Box 61
(580) 622-6111
Lobby
M-F 9am-5pm

Drive-Thru
M-F 7:30am-5:30pm
Sat 8:30 am-noon
ATM Location
Sulphur ATM
1100 West Broadway
Sulphur, OK 73086
Sulphur Bank Office
Vision Bank in Sulphur is one of our newest bank office locations, established in 2012. Conveniently located near other businesses along Route 7, our Sulphur bank is a fun and friendly place to take care of your day-to-day financial transactions and learn more about lending options to help you buy a home, start a business, or check off another big goal. You'll want to visit often enough to catch each of our creative lobby displays promoting Vision Bank's Totally Free Checking. Yes, you heard that right--no fees, no hassle. We also offer up to $10 a month in ATM fee refunds.
Since our founding at the turn of the 20th century, Vision Bank has been dedicated to providing friendly service and flexible options to the people, businesses, and farmers of east central, south central, and southeast Oklahoma. We are locally owned and all of our employees live and work in the same place, which means you can count on us for local insight and expertise into the real estate market; local industries like agriculture, tourism, and extraction; and other issues in your local economy and community.
Our Sulphur Bank Office Supports Your Community
On both a company-wide and individual level, we believe in giving back to the communities we serve.
Follow Vision Bank Sulphur on Facebook
to stay up-to-date on local events and charitable activities. We invite you to join us in bringing the community together and making a difference in your neighbors' lives. Some of our regular causes include:
Supporting Sulphur Public Schools with a Back to School Teacher School Supply Drive

Local blood drives benefitting Oklahoma Blood Institute

Sulphur Community Food Box

Take Pride Outside, Murray County

Scholarships to Sulphur Schools to support local education
See the Difference at Vision Bank
If you're searching for banks in Sulphur, we have something to offer everyone from our varied menu of business and consumer banking services. For over 120 years, we have been a vital part of every community we serve. Find out what makes Vision Bank such a fun place to take care of business. Call or visit our Sulphur bank to open an account, apply for a loan, or discuss which of our products could best meet your needs.
---
Welcome to Sulphur, the City of Springs! Read our Sulphur Relocation Guide, a helpful resource for new residents, anyone considering a move to Sulphur, or current residents who just want to learn more about the community. It's designed to help you learn about our town's history and local schools, utilities, parks and much more!