Money Mule Scams & How to Prevent Them
You know the old saying, "If it's too good to be true, it probably is?". If you received a check in the mail instructing you to deposit, cash, purchase gift cards, cashier's checks or transfer funds, then keep reading. You could be a victim of a "money mule" scam.
What is a money mule?
A money mule is someone who moves money around that was acquired illegally through someone else like a scammer. At Vision Bank we want to educate you and your loved ones on how to avoid this criminal activity.
Scammers target people through mail, email, phone calls, online dating platforms, job search engines and social media sites. They seek out individuals who might want to make an easy profit with minimal effort. An example might read:
Congratulations you've been selected as a customer service evaluator for Whole Foods
Market. In your packet is a $1,950.52 check that will cover your assignment bill and survey commission payment of $500.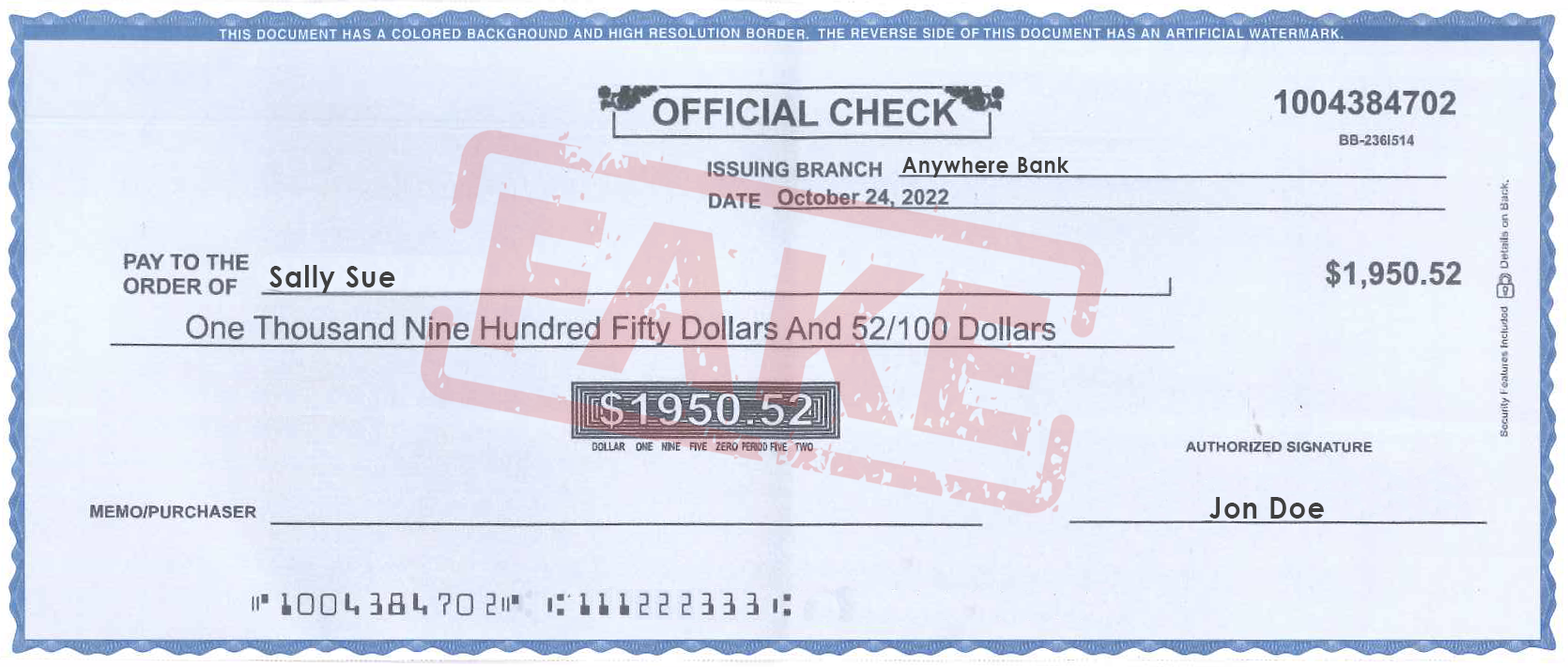 These fraudsters also try to recruit people who may be interested in an online romantic relationship scam. They make up fictious stories to lure you in, then send you a fraudulent check instructing you to complete a task in exchange for a bonus or commission.
Most money mule scams require you to deposit the fraudulent check then transfer funds or make a gift card purchase for them in exchange for your final bonus payment. Ultimately, leaving you facing criminal charges and an empty bank account when the check bounces. Protecting our customers is our top priority so we want to make you aware of any red flag indicators.
Follow these tips to protect yourself from becoming a

victim of a money mule scam.
Don't send money or packages for people you don't know or have never met
Don't agree to a job offering you easy money with little to no effort
Verify the validity of a check you received by mail and the legitimacy of the company that sent it
Don't open a checking account at someone else's direction
Never share your financial information with someone you don't know or trust
If you feel you have been victimized by a money mule scam, contact your bank immediately.  You may also want to contact any other apps or services (examples: Zelle, PayPal, Cash App, etc.) that were used to launder funds. Report the scam to local law enforcement and report it on https://reportfraud.ftc.gov/#/.
For other ways to protect yourself, please read What is a money mule? by the Consumer Financial Protection Bureau and our Scam & Fraud Prevention Strategies blog.