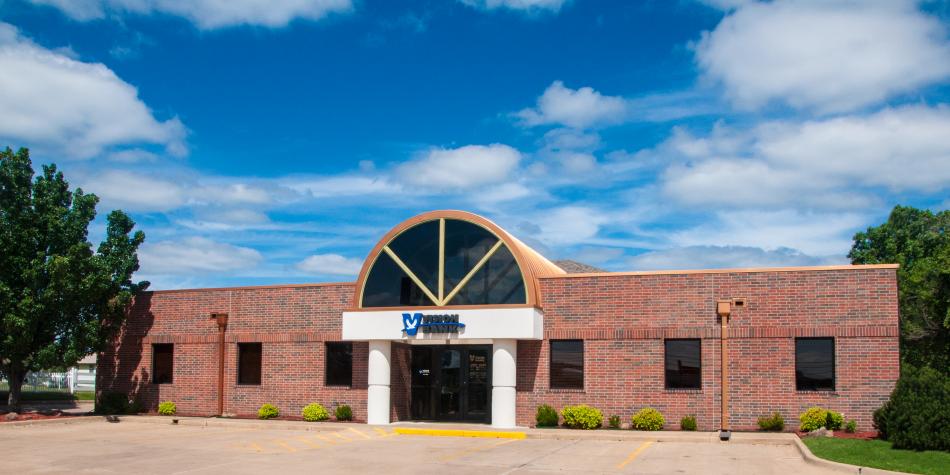 Bank Location
Vision Bank, Meeker
409 South Dawson Street
Meeker, OK 74855
PO Box 119
(405) 279-4600
Lobby
M-F 9am-5pm

Drive-Thru
M-F 8am-6pm
Sat 8am-noon
ATM Location
Vision Bank
409 S Dawson
Meeker, OK 74855
Meeker Bank Office
In 2000, just 3 years shy of the town of Meeker's 100th anniversary, Vision Bank opened our Meeker bank office. Our history also goes back to the beginning of the 20th century when the first Vision Bank (then called First National Bank) opened in Ada, OK. Since then we have been providing convenient and helpful financial services to the businesses, farmers, and people of east central, south central, and southeast Oklahoma.
Oklahomans have long made their living from the land, whether through mineral exploration or agriculture. As a community bank, we have expertise in local industries, particularly agriculture. We are proud of our longtime support of farmers, from the cotton farmers of a century ago to today's dairy, livestock and crop farmers. Our local ownership enables us to provide flexible and competitive service, and it means that we are truly invested in your success. After all, a community bank can only be as successful as the community it serves.
Vision Bank in Meeker Supports Local Events and Charities
In addition to our focus on customer-first service and useful financial products, we seek opportunities to invest in our community in other ways. Follow our
Meeker bank on Facebook
to keep track of the local events and causes we support, and to discover what's going on in your backyard. When the community comes together it achieves its potential for vibrancy. Here are just a few of our favorite events and charitable efforts:
Teacher's Supply Drive

Meeker Rodeo Parade

Annual Carl Hubbell Baseball Tournament

4th of July Festivities

Chamber Golf Tournament

Fall Festival

Christmas Parade
See the Difference at Vision Bank
For over 120 years, we have been a vital part of every community we serve. Find out what makes Vision Bank a great place to do business.
Whether you're searching for banks in Meeker, or you're a current Vision Bank account holder in need of a new service, Vision Bank Meeker has something for everyone. Call or visit our Meeker location to open a new savings or checking account,
apply for a loan
, or learn more about our products and get help with all of your banking needs.
---
Welcome to Meeker! Read our Meeker Relocation Guide, a helpful resource for new residents, anyone considering a move to Meeker, or current residents who just want to learn more about the community. It's designed to help you learn about our town's history and local schools, utilities, parks and much more!